Brandy
This is a curated selection of our most current or seasonal recipes. You can filter our recipes by simply
selecting one of the beverage styles below.
DOWNLOAD RECIPES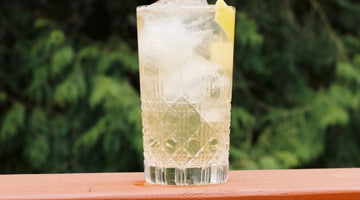 Annie Beebe-Tron's Jacoulot Highball⁠ Recipe
"This highball blends the richness of Jacoulot's Fine de Bourgogne with the earthy complexity of their Le Petit Marc, leading to a dynamic, subtle highball for brandy and whisky drinkers alike." - De Maison Spirits
Be sure to check out our Highballs at High Noon session with De Maison's National Spirits Portfolio Director, Annie Beebe-Tron to watch them build this highball live!
Annie Beebe-Tron's Jacoulot Highball⁠ Recipe:⁠
1 oz Jacoulot Fine de Bourgogne⁠
.5 oz Jacoulot Le Petit Marc⁠
Top Note Club Soda No. 1, to top
Garnish: lemon peel (optional)
Build spirits in a chilled highball glass. Add ice, stir briefly to integrate, and then top with Top Note Club Soda No 1. Garnish if desired.
Grapefruit Wisco Old Fashioned
Here in Wisconsin we're pretty particular about how we like our Old Fashioned's. In this recipe, we give a nod to the regional standard without straying too far from the original, using Grapefruit Soda as a stand-in for store-bought sour mix and sugary soda.
Grapefruit Wisco Old Fashioned Recipe:
1 orange slice 
2 maraschino cherries
1 sugar cube, optional
3 dashes orange bitters
1.5 oz brandy or bourbon
2-3 oz Top Note Sparkling Grapefruit Soda
Garnish: maraschino cherries
Combine the orange, cherries, sugar cube and bitters in a rocks glass and muddle. Add spirit and ice, then top with Grapefruit Soda. Stir it up and don't forget the garnish!