Recipes
This is a curated selection of our most current or seasonal recipes. You can filter our recipes by simply
selecting one of the beverage styles below.
DOWNLOAD RECIPES
The Vermouth Cassis
In the beautiful world of cocktails, your choices vary beyond belief; you have everything from the simple yet hard hitting Whiskey Sour, the tart crispness of an Appletini, or the rich and savory deepness of a Brandy Alexander. However, even in the cocktail world, finding a drink that quenches thirst, refreshes, has a decent kick, and is low-proof, is rare. One drink fits all of these criteria while also being delicious and shockingly simple to make; the Classic Vermouth Cassis. 
The Vermouth Cassis is a simple, elegant drink that saw an explosion of popularity in the 1930s. Looking back, you can find the Vermouth Cassis listed in countless American home cookbooks, drink guides, and bartending manuals from the 30s onward. Over its long history, the Cassis has had many names; the two most notable are the Cranberry Cassis and the Pompier. The latter holds the origins and roots of the drink, Pompier, meaning fireman in French. The drink originated in France in the 1920s as an Apéritif cocktail. Apéritifs, deriving from the Latin word apierire (to "open"), are a low proof liquor or spirit meant to stimulate the appetite before a meal. Apéritifs come in countless variations, and some of the most popular types are Campari, Gin, Sherry, and of course, Vermouth. 
Extremely common in Europe, Apéritifs have been a part of the drinking and culinary culture for hundreds of years. So when alcohol enthusiasts in the US fled to France during the 1920s, as prohibition was decimating the American drinking culture, they became exposed to Apéritifs. They then took the drink recipes home (once prohibition was over, of course!), and the Pompier spread like wildfire. Since then, the Pompier became the Vermouth Cassis and has been a part of the American drinking culture.
 Recipe: 
The Vermouth Cassis is a simple cocktail to prepare; you only need a jigger, glass, and pairing knife.
 Ingredients: 
 1.5 OZ of Dry Vermouth (We recommend Dolin Dry Vermouth) 
0.5 OZ of Creme De La Cassis (We recommend Lejay Creme de Cassis)
Top Note Tonic Club Soda To Taste / To Top
1 Lemon Twist
(Optional but highly recommended) Skewered Cherry or Mint for Garnish
 *Note - We highly recommend using small, single-use, bottles of Vermouth when making cocktails; this is because once opened, Vermouth will begin to go bad and gain an off taste after about one month, two to three if stored in a refrigerator. This can lead to the cocktail being less than pleasant, so freshly opened Vermouth is a must for optimal taste and freshness! 
 Preparation: 
Add ice, Vermouth, and the Creme de la Cassis to a glass, followed by the club soda. Gently stir, and add the lemon twist with blueberries or mint for garnish and enjoy! 
If you would like to check out our other favorite cocktails, check out our drink catalog here. Or, if you would like to order some of our artisan mixers, you can place your order here!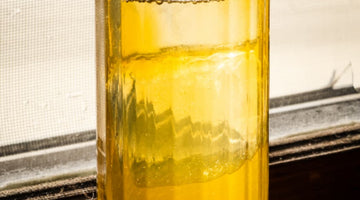 Jon East's Chai Highball
Jon made this for us on our Instagram live series, Highballs at High Noon! While its preparation is simple, this cocktail is incredibly complex.
Be sure to check out our Q&A with Jon and follow him on Instagram for cocktails and cute dog pics.
 Image credit: Jon East
Jon East's Chai Highball Recipe:
1.75 oz Twisted Path Chai Liqueur
1 dash Bittermens Hopped Grapefruit Bitters
1 dash Bittermens Buckspice Gingersnap Bitters
4 drops Bittermens Xocalatl Mole Bitters
Garnish: citrus peel
Stir all ingredients together in a highball glass filled with ice and garnish.
Winter Chill
Lay off the booze and recover with a winter chill. This one has potent energy of OJ and Cider, with spice of Ginger for a soothing mix.
1 oz Orange Juice
2 oz Top Note Tonic Ginger Beer
3 oz Sparkling Cider
3 frozen Cranberries
Mix together juices, and ice. Top with ginger beer. Gently stir. Add 3 cranberries to garnish. 
Photo Credit and Recipe Inspiration by Chowhound https://www.chowhound.com/recipes/autumn-chiller-13479
Spirit-Free Cucumber Basil Smash
No booze necessary, this spirit-free recipe is sure to lift your spirits.
Spirit-Free Cucumber Basil Smash Recipe:
4 fresh basil leaves
4 slices fresh cucumber
.5 oz lemon juice
1 sugar cube
3 dashes orange bitters, optional
6 oz Top Note Indian Tonic Water
Garnish: fresh cucumber and basil
Muddle all ingredients except Indian Tonic in a mason jar or heavy-bottomed rocks glass. Top with Indian Tonic and garnish.
White Port & Tonic
This simple classic Portuguese apéritif is perfect for happy hour. No fancy bar tools necessary!
White Port & Tonic Recipe:
4 oz white port wine
.5 oz lemon juice
4 oz Top Note Indian Tonic or Bitter Lemon Tonic
Garnish: fresh citrus and herbs
Stir ingredients together with ice and garnish.
Espresso & Tonic
The freshest, fizziest way to enjoy your favorite coffee!
Espresso & Tonic Recipe:
2 oz freshly-brewed espresso or cold brew concentrate
6 oz Top Note Indian Tonic Water
Garnish: fresh citrus
Pour the Indian Tonic into an ice-filled glass, then slowly pour in the coffee. Garnish.
Americano
Rumored to be the Negroni's predecessor, the Americano has become a classic in its own right.
Americano Recipe:
1.5 oz Campari
1.5 oz sweet vermouth
Top Note Club Soda No. 1, to top
Garnish: orange slice
Stir ingredients together with ice and garnish.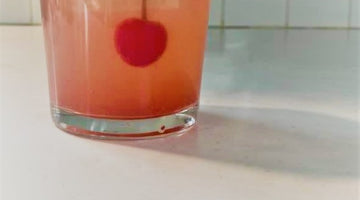 Wisco Love
We loved this cute lovebug of a drink!
Made from all Wisconsin based makers, our friends @sirenshrubs made this one a fun change up for Valentines day.
2 Tablespoons @fedupfoodswi Cranberry Sauce
1 oz @Sirenshrubs Basic Shrub
0.5 oz @tappedmaplesyrup Blueberry
2 -3 Dashes Bittercube Orange Bitters
1/4 oz Lime juice
Top with Top Note Club Soda
Shake the first ingredients up for 30 seconds with ice. Strain into a glass and add Top Note Club. Cherry Garnish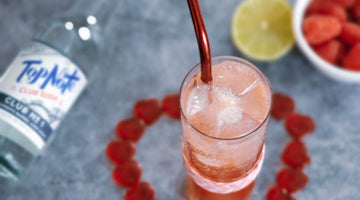 Kirk Jones's Bitter Sweetheart Highball
When asked about the inspiration behind this highball, Kirk laughed and proclaimed that he'd "made it around Valentine's Day" and that it reminded him of his ex, so it's fitting that he named it the Bitter Sweetheart!
Be sure to check out our Q&A with Kirk and follow Royal Rose Syrups on Instagram for more cocktail inspiration.
Kirk Jones's Bitter Sweetheart Highball Recipe:
1.5 oz gin
.5 oz Campari
.5 oz Dry Curaçao
.75 oz Royal Rose Organic Raspberry Syrup
1/2 oz lime juice
Top Note Club Soda No. 1, to top
Shake all ingredients except the club soda in a cocktail shaker filled with ice. Strain into an ice-filled highball glass, top with club soda, and stir.
The Mezcal Negroni
From uncertain origins to a hundred years of experimentation, the Negroni has contributed more than its fair share to the cocktail world, and the Mezcal Negroni is one of our favorites.
Few cocktails have impacted the drinking world in the same way as the Negroni. Bitter, rich, savory, and elegantly simple, the Negroni has inspired innovation across the globe since its inception. As a result, today, there are nearly countless variations on the classic cocktail, each bringing a new element to the bargoer's senses. However, one interpretation of the Negroni stands out as one of the most ordered and most enjoyed amongst its many contemporaries; the Mezcal Negroni.
The History of the Negroni
Like so many of our favorite cocktails, the exact birth of the Negroni is not explicitly known. However, most cocktail scholars point to one story, which is the most likely origin of the cocktail. In 1919 at a bar called Caffè Casoni in Florence, Italy, the bartender Fosco Scarselli created the drink at the request of Pascal Olivier Count de Negroni. The story tells that Count Negroni wanted the soda water in his Americano substituted with Gin; Scarselli complied while also adding orange garnish instead of lemon, and thus the Negroni was born. It was a perfect 3 part cocktail made from Gin, Sweet Vermouth, and Campari. (The Americano cockatil is Vermouth, Campari, and Soda Water.) Later, the Negroni family created a distillery (which is still open to this day!) and distributed a ready-made version of the drink called the Antico Negroni 1919.
Variations of the Negroni
The Negroni's simplicity has lent it to constant experimentation; this has resulted in a massive number of variations to spring up over the years, with some of the most popular being:
The Boulevardier — This is a sweeter and warmer take on the Negroni with rye whiskey instead of Gin.

The Cardinale — This variation is dryer and spicier by substituting sweet vermouth for dry and Campari for Contratto.

The Ol' Pal — This cocktail was invented in the prohibition era 1920s and substitutes rye whiskey for gin and dry vermouth instead of sweet vermouth.

Using Tonic Water instead of Campari or other bitter liqueur. Yes, the idea of swapping the primary spirit was never questioned in the Negroni, but the new era of tonic water and mixers means you can swap out the bitter component too. We recognize there are many options, but the best bar none for this cocktail is Top Note Tonic's Gentiana. It is made with the same bitters as Campari, and therefore makes a suitable substitute. But more importantly, the tonic water can help create a more mild (in alcohol) drink, and therefore lend itself to drinking as a pre-dinner or afternoon cocktail.
The Mezcal Negroni
One of our favorite takes is the Mezcal Negroni. It is made by, as the name suggests, substituting the Gin for Mezcal; doing so creates an outstanding balance from the smokiness of the Mezcal complementing the bitterness of the Campari and the Sweetness of the Vermouth; it also makes the cocktail more palatable for general bargoers because it is less abrasive than the standard Negroni.
Mezcal Negroni Recipe:
1 oz. Mezcal (we recommend Del Maguey Vida)
1 oz. Campari or 1.5 oz Top Note Gentiana Tonic
1 oz. Sweet Vermouth (We recommend Cocchi Storico)
1 Orange Twist for Garnish
Ice
Instructions:
Add Mezcal, Campari or Top Note, and Vermouth to a mixing glass with ice.
Stir well (this may take some time)
Strain into a glass with a single, large ice cube.
Add orange twist.
The Mezcal Negroni is a refreshing take on a classic cocktail, but some may find the taste to be a bit harsh, if that is the case we recommend adding a dash of our Top Note Tonic Club Soda; this adds a refreshing spritz to your cocktail while still maintaining the pronounced flavors. If you want to browse some of our top quality artisan mixers for your at home bar you can view our entire product catalog here.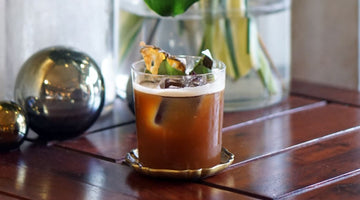 Pineapple Espresso & Tonic
We think the Espresso & Tonic is pretty much the coolest thing since the advent of the Frappuccino, and while the classic espresso + tonic is absolutely incredible, we love how easily riffable this recipe is! Here we add pineapple syrup and Bitter Lemon Tonic for a bracingly tropical treat.
Pineapple Espresso & Tonic Recipe:
2 oz freshly-brewed espresso or cold brew concentrate
1 oz pineapple syrup (store bought or homemade*)
5 oz Top Note Bitter Lemon Tonic Water
Garnish: dehydrated pineapple, pineapple fronds, fresh basil (optional)
Mix the espresso or coffee with the syrup and set aside. Fill a glass with ice and add Bitter Lemon Tonic Water. Slowly pour the coffee and syrup mixture into the glass. Garnish as desired.
*Pineapple Syrup: Combine 1 cup pineapple juice and 1 cup sugar in a small pot over medium-high heat. Bring to a bowl, then reduce heat and simmer for 5 minutes. Let cool before bottling. Store in the refrigerator and use within 2 weeks. Makes 8oz syrup.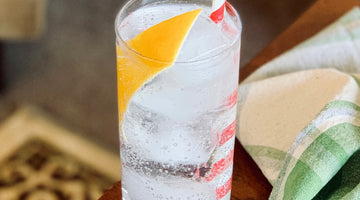 Gin Sonic
Enter: the Gin Sonic. Nope, not a typo. It's what you get when you mix Japanese Roku Gin with equal parts tonic water and club soda. We love the simple elegance and balance of this cocktail and we're betting you will, too.
Gin Sonic Recipe:
1.5 oz Suntory Roku Gin
2.25 oz Top Note Club Soda No. 1
2.25 oz Top Note Classic Tonic
Garnish: expressed lemon twist
Stir all ingredients together in an ice-filled highball glass and garnish.